Yacht Charter
Dubai
Have Fun While You Are Still Under The Sun! Yacht Charter Dubai Offer Our Clients With The Best Yacht Rental Services. Our Years Of Experience And Collective Knowledge Serves To Make Your Yacht Rental Dubai Experience Exceptional. Experience The Freedom Of Being In The Ocean Breeze Bringing A Smile On Your Face. Don't Wait And Get Yourself On Board With Yacht Hire Dubai In Your Dream Destination.
Luxury Yacht Charter in Dubai
Gugu Boat
AED 4000-5000 / hour
Lotus Yacht
AED 14,990 / hour
Desert Rose Yacht
AED 6000 / hour
Virgo
AED 2000-2250 / hour
135 Feet Yacht
AED 4000 -45000 / hour
Notorious
AED 4000 / hour
Big Daddy Yacht
AED 4000 – 4500/ hour
Mermaid Yacht
AED 600-700 / hour
Sea Breeze Yacht
AED 1000-1200 / hour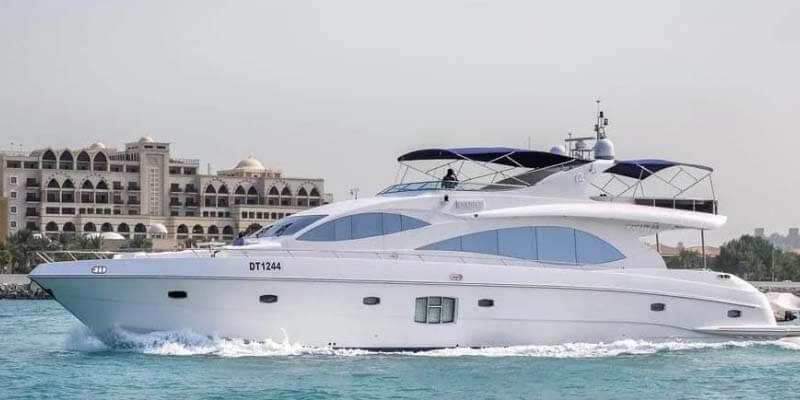 Lady of Sea Yacht
AED 3000-3500 / hour
Magix Yacht
AED 1500-1800 / hour
Captain Queen Yacht
AED 800-900 / hour
XT Sea Yacht
AED 1200-1500 / hour
Additional services
Easy Yacht Is Your One-Stop Shop For The Ultimate Yacht Charter Dubai. Keeping In Mind The Diverse Backgrounds Of Our Customers We Provide A Range Of Services And Yachts Depending On Your Preference And Budget. You Can Organize Everything From Birthday Parties And Weddings To Corporate Events And Family Gatherings. We Are Committed To Providing The Absolute Best To Anyone Who Chooses Easy Yachts.
Yacht Birthday Party Dubai
Are you going to touch Sweet 16 or the Big 5-0? Bring your birthday celebrations ...
Family Gatherings
Escape the hustle and bustle of busy city life and spare some time for your family.
Corporate Yacht Charter
People say you shouldn't mix business with pleasure –that does not always have to be the case.
Wedding On Yacht
Wedding Yacht rentals Dubai are ideal for celebrations of life like weddings.
Lotus Mega Yacht Brunch
Sign up for an astounding time afloat on the super amazing and luxurious mega yacht
Limo Rental Dubai
Easy Yachts is pleased to announce that now we will be making a new luxurious limousine Dubai available for Limo rental in Dubai.
Destination
Have a look at our prime destinations in Dubai with plethora of things to do. Book multiple short trips and cover all
What our clients say
Boat wedding has always been a dream for me. Thanks to easy yacht who made it possible for me. I loved the services, I loved the decor and food too. I must say their yacht wedding package is amazing.
Mahdi
Easy Yacht wedding boat rental services saved the day. Since the day, I was not sure about my wedding location but thanks to Emily who suggested me to have a boat wedding. Honestly, wedding yacht charter is the only thing that I have wished for my wedding.
Shamair N
Amazing food. Amazing decoration. Friendly yacht wedding package. totally recommended for unique boat wedding experience. I have made the best decision of choosing Easy Yacht as my wedding yacht charter.
Herman W
Boat wedding was my destination wedding and I love the ideas. Thanks to easy yacht who made it possible for me to have the dream wedding. Their yacht wedding package was simply amazingand affordable. Highly recommended.
Fred P
Frequently Asked Questions
Easy yachts offer wide fleets of yachts to choose from. Describe your event or purpose of booking and contact our yacht charter Dubai specialists to request your booking. You can also receive special discounts and deal on special occasions.
Yacht hire Dubai enjoy every occasion like birthday parties, anniversaries, receptions, as well as corporate events on the yacht.
Yes, Easy yachts offer water sports such as, jet ski, Banana, fly board, jet ski as well as deep sea fishing is also added in chart charter Dubai.
You can easily pay through following methods:
Debit or Credit Card
UAE Exchange
E-Invoice Online Payment Link
Cash/Cheque
There's a great need to know that public alcoholism is strictly forbidden. If you do so, you may end up with heavy fine of sometime in the jail.
Seasickness is common. It would be best to minimize the risk of discomfort during the cruise. Eat something light and take ginger tea. Captain will also assign some tablets to overcome the discomfort.
NEED INFO?
Feel free to contact for any kind of inquiry.